Xfinity Center | Mansfield, Massachusetts
Fans of Blink-182 and Lil Wayne – are you ready for some incredible unexpected news?? These two HUGE acts are teaming up for a big jaunt around the US with support from Neck Deep! It's an unlikely lineup, but somehow, it makes perfect sense. As if that wasn't enough, both these acts have brand new music out and just around the corner!! Don't miss this once-in-a-blue-moon tour – catch all the live action at the Xfinity Center on Wednesday 10th July 2019!!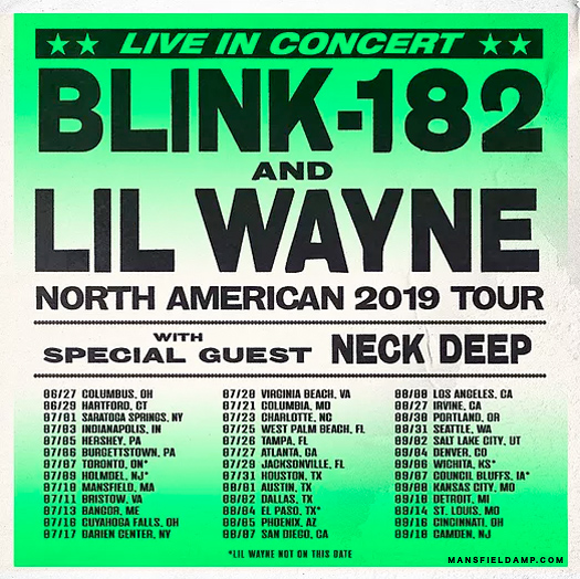 It's an exciting time for fans of both acts, with Blink-182 teasing an upcoming new album with the release of the peppy song and video for "Blame It On My Youth". As for Lil Wayne, despite stating pretty firmly that "Tha Carter V," would be his last album, he's got a new one geared up for release just one year later!! Blink-182 will be entering an era of new music after 2016's massive album "California" – their first to top the charts both in America and the UK! Featuring the smash hit singles; "Bored to Death" and "She's Out of Her Mind", the album earned the band a nomination for a Grammy Award for Best Rock Album.
Lil Wayne's last album, "The Carter V" was similarly successful with both fans and critics, with Variety writing; " V is fresh, flush and even frenetic at times, with the crunch of the Southern trap and ropey rap-rock sounds that Wayne pretty much started in the first place."
Are you hyped to catch all this live?? Then hurry and get those tickets – they won't stick around long!!