Xfinity Center | Mansfield, Massachusetts

Are you ready to witness one of the greatest musical artists of the century?? That's right, in 2019 Beck embarks upon The Night Running Tour, with huge support from Cage The Elephant and Spoon!! This incredible live concert experience is on its way to the Xfinity Center on Thursday 15th August 2019 – do NOT miss it!! Hit the "Buy Tickets," button and get yours today!!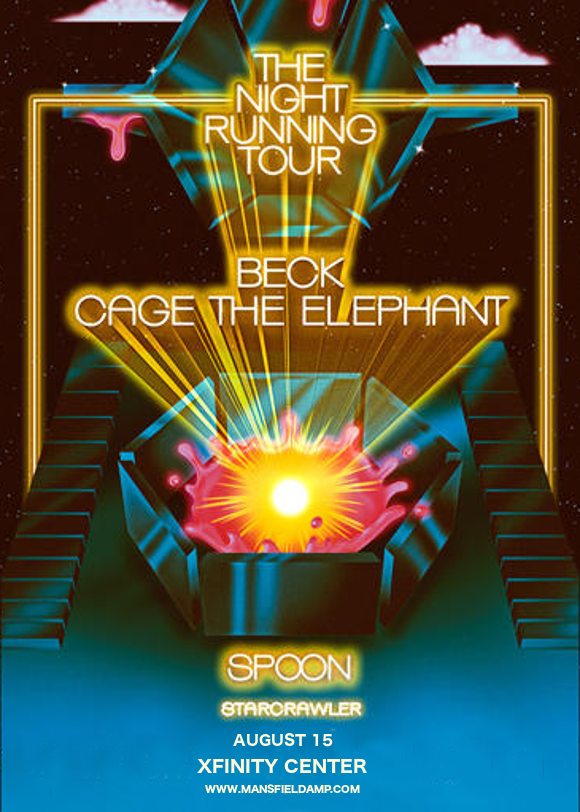 Beck's impact on the popular music scene has been nothing short of immense, gaining a reputation for his innovative and inventive experimental musical styles, refusing to be pinned into a genre. Over the course of 3 decades, his output has been one of continuous high quality.
"Colors," marks Beck's reunion after a long time with Greg Kurstin, along with the touring band of musicians from his tours way back in the '90s. "It was a special, very intense and emotional thing to come back together with people that you spent such a formative time with," said the songwriter. "You have so many great memories. Once we started playing the shows we had a few moments that really felt like something was revealing itself to me. It felt like coming back to life."
It's no wonder that "Colors," feels like such a breath of new life, with all this emotion and feeling from the songwriter behind it. Are you ready to hear Beck at his invigorated best along with Cafe The Elephant and Spoon?? It's going to be an experience like no other – if you haven't already then get your tickets NOW before they disappear!!