Xfinity Center | Mansfield, Massachusetts
The DJ duo Eli Sones and Matthew Halper – widely known in the scene as Two Friends, is hitting the stage at Xfinity Center on Friday, 16th of June 2023, set to throw the year's biggest electrifying party. Highly sought for their hour-long Big Bootie Mixes of chart hits, the duo recently dropped their Helix Records debut "Wish You Were Here" featuring John K. With a slew of remixes, original tracks, and Big Bootie Mixes up their sleeve, get ready for an electrifying set at Xfinity Center by the Two Friends by booking your tickets now!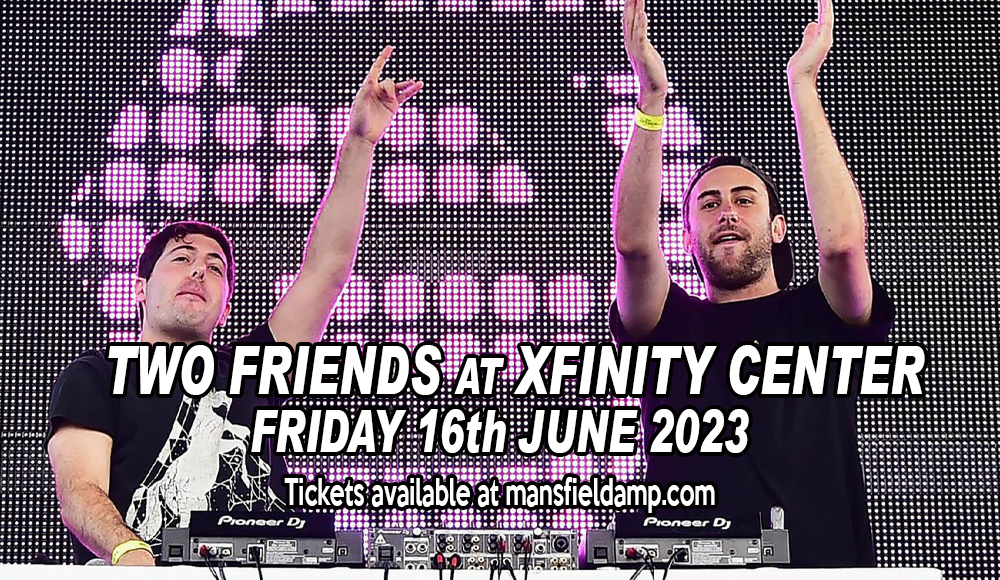 DJ duo Two Friends has become a staple name in the electronic dance music scene for their infectious Big Bootie Mixes of current hits. Along with the hour-long bootie mixes, the duo has produced their own original craft and produced official remixes for various artists including Tove Lo, Louis Tomlinson, Lana Del Rey, Echosmith, and many more.
Having met in seventh grade, and forming Two Friends at the need of their high school journey, they began making hip-hop beats through Pro Tools, producing beats for rising rappers before finding their home in the EDM scene. Since visiting the Sahara Tent at Coachella, the two friends started exploring the world of EDM. Since then, they've released tracks and mixes that they described as "songs that are fun and get you dancing and moving, but also hopefully resonate with you on a more emotional level at the same time… [They are] kind of a melting pot of a lot of different elements and influences- whether from dance music, from pop, even from alternative rock or hip-hop."
In May of 2022, the duo released their debut track with Helix Records, "Wish You Were Here" ft. John K. With pop-infused beats and powerful basslines that send listeners to the dancefloor, the track is actually an emotional rollercoaster of a dance banger. In a statement, collaborator John K shares "I remember locking myself in the basement of my in-laws house and cutting vocals by myself for hours until I got it right. "Wish You Were Here" is a sweet, sad banger. There's pain and longing in the vocal and tempo in the track. Loved working with Matt and Eli and can't wait for everyone to hear this. When I saw the music video… I cried."
The video shows two friends who grew up together, with one's biggest support always having been there since the start. Two friends bonding over music along with their canine friend, they look back and celebrate his life by bringing music back to where it all began, in their childhood home.
From high school bedroom producers to amassing millions of streams across the globe, Two Friends has definitely become one of the most sought-after EDM acts to rise from LA. Don't miss out on big surprises and an electrifying set live on stage at Xfinity Center by booking your tickets now!