Xfinity Center | Mansfield, Massachusetts
Two huge names in hip hop, Wiz Khalifa and Rae Sremmurd, are headed to Xfinity Center on Tuesday 8th August 2018 as part of their much-hyped Dazed and Blazed co-headlining tour! Both repping hot new albums – Khalifa with Rolling Papers II and Sremmurd with SR3MM – fans can expect brand new material from both artists, as well as hits like "Black and Yellow" and "Black Beatles"! Plus, there will be support from Lil Skies and OT Genasis!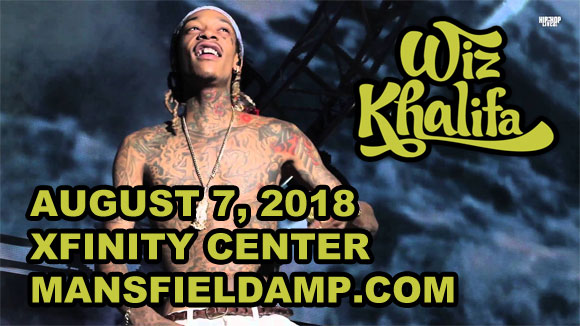 Gaining instant recognition from the hip hop community with the release of his 2005 mixtape Prince of the City: Welcome to Pistolvania, American rapper Wiz Khalifa had his first taste of mainstream success when his début Warner Bros. single "Say Yeah" reached number 25 on the Billboard Rhythmic Top 40 music chart and number 20 on Billboard's Hot Rap Tracks chart. However, it was "Black and Yellow" (2010), Khalifa's first hit with Atlantic Records, that made him a household name, peaking at number one on the Billboard Hot 100. "See You Again," Khalifa's 2015 tribute single dedicated to Paul Walker and recorded for the soundtrack of the film Furious 7, peaked at number one on the Billboard Hot 100 for 12 non-consecutive weeks – his biggest single so far. Rolling Papers II, Khalifa's hotly anticipated follow-up to 2011's Rolling Papers, was released on July 13, 2018.