Xfinity Center | Mansfield, Massachusetts
The whiz kid of rap strikes again! True to form, Wiz Kalifa and his rap cohorts French Montana and more are expanding territories and covering more ground for their fandom as they embark on yet another tour leg. Wiz Kalifa and the gang will hit the road and make their way up the highway leading to the Xfinity Center on Sunday 14th July 2019. As soon as they hit center stage, expect the crowd to go wild as they dish out their monster hits such as 'Black and Yello', 'Say Yeah', 'Work Hard, Play Hard', and many more! You wouldn't want to miss out on all the fun, do you? Click that 'buy tickets' button now!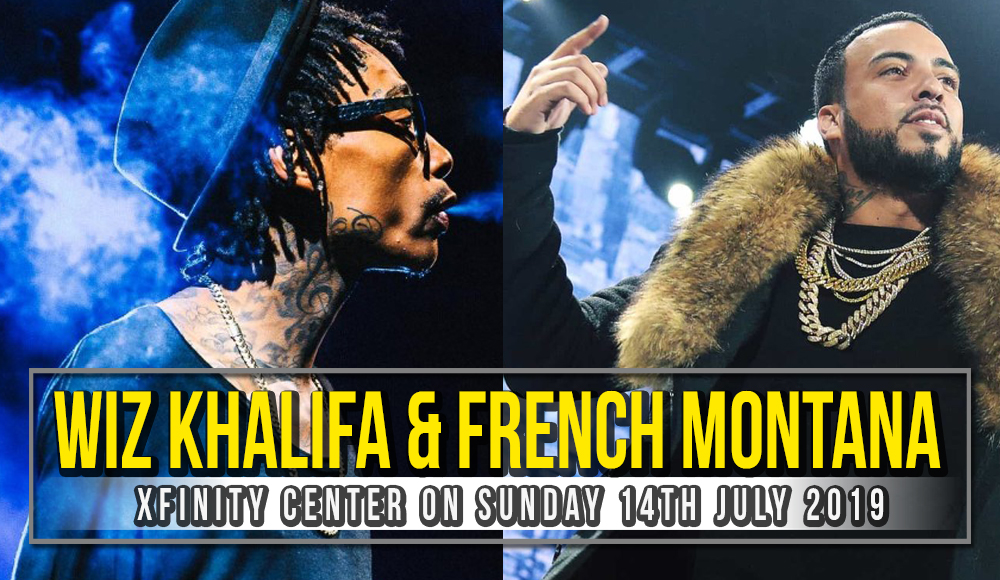 Wiz Kalifa's 'Decent Exposure' tour is one of the highly anticipated shows this year. The tandem of Wiz Khalifa and French Montana in one concert event is one that is expected to draw mammoth crowds. Both artists have their own sets of fandoms, thus, the two of them coming together in one venue would truly be a blast!
Wiz Khalifa is one of today's modern day rap heroes or some bob their heads and most likely agree that he is branded more as an anti-hero. At a very young age, Wiz already knew what he wanted to be when he grows up. Even before he hit his teen years, he was already into performing and writing poetry and songs. Impressed by his wordplay, a recording studio owner gave him free studio time where he could record his songs. At a young age of 15, he has already learning the ropes of professional grade studio techniques, giving him the advantage of early learning, exposure, and the chance to explore and experiment with his craft. His early works which include "Say Yeah" and the free downloadable track mixtape "Kush and Orange Juice" caught the attention of a homegrown crowd then it spread onto the grassroots audience, then exploded as a trending social media fan favorite. From there, his music hit the mainstream pop rap hip-hop audience with the release of the single "Black and Yellow" which peaked at number one on the Billboard Hot 100. Wiz Khalifa's biggest hit to date is "See You Again" for the soundtrack of the film Furious 7. The song was an no-brainer hit that peaked at number one on the Billboard Hot 100 for 12 non-consecutive weeks.
If Wiz said 'work hard, play hard', now it's high time for you to party hard! Get your tickets now!