Xfinity Center | Mansfield, Massachusetts
That 'Mr. Mister on the radio is finally back on the road! After recently releasing their newest single "AM Gold", Train is set to finally drop their newest album of the same name by May of this year, their first new record after five years. In support of their comeback, the band is set to embark on their AM Gold tour, stopping by at Xfinity Center on Wednesday, 8th of June 2022. Not only is it a night to relive their best timeless hits including "Drive By", "50 Ways to Say Goodbye", "Marry Me", and the RIAA Diamond Awarded "Hey, Soul Sister", it's also a night to hear and celebrate fresh new music off of AM Gold. Fans are surely in it for a night to remember with Train, and supporting the band on their tour is the Grammy Award-nominated Jewel, and the certified-platinum rock band Blues Traveler. Book your tickets now!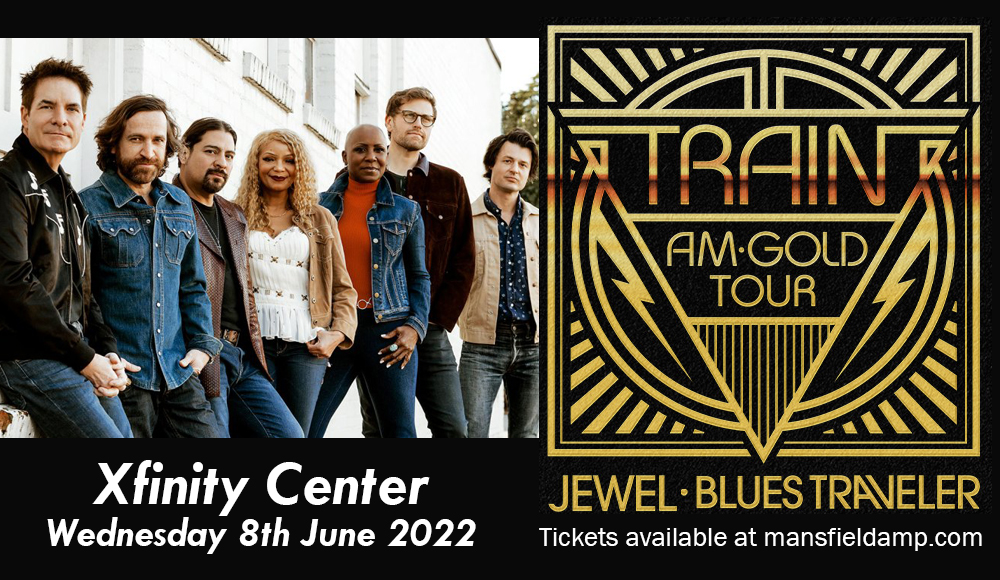 Train traces its beginnings to 1993, when lead singer Pat Monahan's Led Zeppelin cover band dissolved, then having crossed paths with Rob Hotchkiss in California. They collaborated and later on formed what the world would know as Train. Having been rejected by Columbia in 1996, they released their first CD independently, and year later the band was already touring across the country and opening for various bands.
The band found early success with their first singles "Free" and "Meet Virginia", and "I Am". Their second studio record "Drops of Jupiter" that featured the hit 6x Platinum single "Drops of Jupiter (Tell Me) propelled the band to greater heights, with the song winning two Grammy Awards. Year 2001's Drops of Jupiter marked Train's first multi-platinum record and first top ten on the Billboard 200.
Train continued delivering hits after hits across their succeeding albums. 2009 marked their biggest comeback hit with the release of "Hey, Soul Sister" from their fifth studio album "Save Me, San Francisco". The single became Australia's most played song in radio history, most downloaded single from iTunes in 2010, and Columbia Records' best selling single in history. "Hey, Soul Sister" is now awarded Diamond by the RIAA.
Train has marked decades of success across the discography including timeless and unforgettable hits including "Bruises", "Drive By", "Play That Song", "If It's Love", and much more. As the new year 2022 came, Train came in rushing to surprise fans with a brand new album to be released on May 2022, along with shows across the country.
"2022 is the year of the Tiger… It has begun in a strong, beautiful, and encouraging way and it's only the beginning" says Pat Monahan. "We can't wait to see you all out there, dancing and singing along…"
Fresh new music by the one and only Train live on stage, joined by Jewel & Blues Traveler, as they celebrate AM Gold and the return of intimate live music on stage. Book your tickets now!