---
---
Bringing you an energetic, technicolor spectacle that will have you captured from the word "go", legendary 80s bands Styx and REO Speedwagon are joining with ex-Eagles guitarist Don Feldman for a triple-headlining tour that ROCKS!!! The United We Rock Tour will be touching down at Xfinity Center on Saturday 19th August 2017:
"I called up [Styx's] Tommy Shaw last summer and we were both thinking the same thing: Let's get the boys together, make some music, and have some fun," REO frontman Kevin Cronin said in a news release. "REO Speedwagon and Styx together is a head-first plunge into the fountain of youth, an unstoppable force of nature. Add the amazing Don Felder to the mix and it's a thundering slam dunk."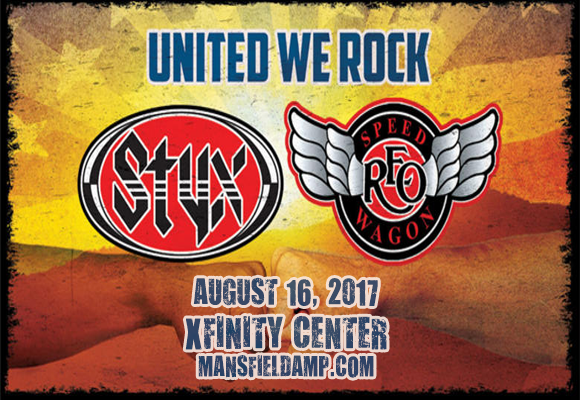 Finding fame in the late 1970s and early 1980s with hits such as "Lady" (#6, 1973), "Come Sail Away" (#8, 1977), "Babe" (#1, 1979), "The Best of Times" (#3, 1981), "Too Much Time on My Hands" (#9, 1981) and "Mr. Roboto" (#3, 1983), Styx is an American rock band that was formed in Chicago in 1972. From 1977 to 1983, Styx had five consecutive albums certified multi-platinum by the RIAA, three of which were certified triple-platinum. The band can also boast 16 top 40 singles in the US throughout their career, 8 of which hit the top 10.