Xfinity Center | Mansfield, Massachusetts
It's time to get your groove on as Steely Dan and the Doobie Brothers bring that 70s sound to Xfinity Center! Touching down on Saturday 7th July, 2018, the two iconic bands will each be performing a headlining set, thrilling fans with classic hits like "Peg" and "Long Train Runnin'"! Dubbed "The Summer of Living Dangerously" Tour, the stint sees these two incredible bands sharing the Xfinity Center stage for a night of classic rock at its best!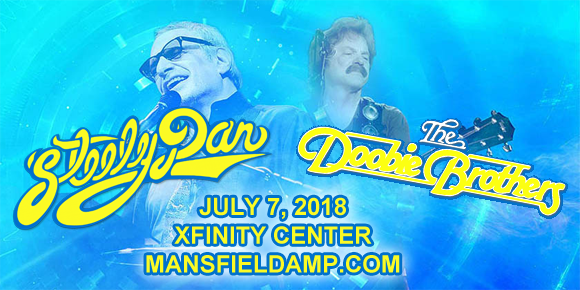 American rock band Steely Dan was formed in the late 1970s by core members Walter Becker (guitars, bass, backing vocals) and Donald Fagen (keyboards, lead vocals). Fagen and Becker played with various session musicians over the years until Becker's passing in 2017, which left Fagen as the band's only official member. The band's debut album, Can't Buy a Thrill, was released in 1972 to both critical and commercial success, setting the band up to be what Rolling Stone has called "the perfect musical antiheroes for the Seventies". After a twelve year hiatus (1981 – 1993), the band reformed and went on to release two albums of new material, the first of which Two Against Nature (2000), earned a Grammy Award for Album of the Year. To date, the band has sold more than 40 million albums worldwide, and in March 2001 they were inducted into the Rock and Roll Hall of Fame.