Xfinity Center | Mansfield, Massachusetts
Slipknot, Marilyn Manson & Of Mice and Men comes to Xfinity Center on Tuesday 5th July 2016
The many faces of rock: Edgy. Violent. Dark. Chaotic. Aggressive. Eccentric. Slipknot has them all! The posters of boys the chaotic underworld of heavy metal rock are hot on the concert trail with their freaky and hard rocking' cohorts – Marilyn Manson and Of Mice and Men, causing unrest and disturbance on this side of town. Having these threesome act all in one stage is anything but colossal in magnitude. Their fans fans are now on a massive hot pursuit for tickets. If you want to secure your place in the mosh pit or just simply be there rocking your heart out and seeing these gods in the flesh, better act fast and get your hands on those highly in-demand tickets.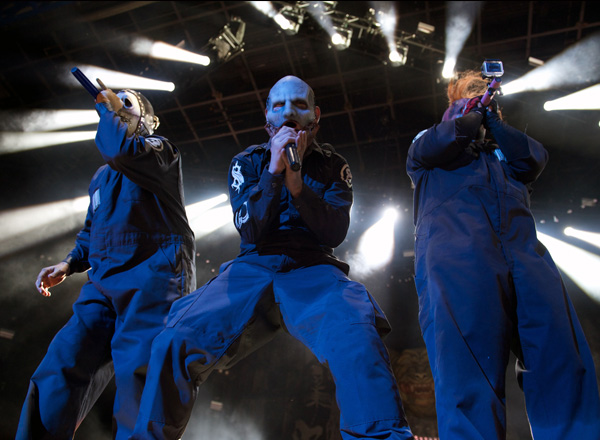 Slipknot went on a six-year hiatus after the death of founding bassist Paul Grey and after the departure of original drummer Joey Jordison from the band. Butfans stayed on, eagerly anticipating their next move. In support of their latest 2014 and fourth album, ".5: The Gray Chapter", Slipknot is back on the road again, in this massive tour with Marilyn Manson and Of Mice and Men.
Slipknot made a lot of noise, grabbing a lot of attention as one of the biggest and dominating forces among heavy metal bands. Fans are not only head banging to their music; critics have lauded them for their tight and solid style. Their fair share of controversies and lawsuits have not overshadowed their music which merited a Grammy win for Best Metal Performance in 2006, as well as 10 nominations. There was no looking back for this band formed in Des Moines, Iowa who hit it big with their eponymous debut album in 1999. With their 2001 follow-up album,Iowa, the band got bigger, until their fourth album, All Hope Is Gone, debuted at number one on theBillboard 200 chart. All these intensified with their tireless touring schedule, playing sold-out shows to numerous stages all over the world.