Xfinity Center | Mansfield, Massachusetts
Thrash metal legends Slayer come to Xfinity Center on Saturday 25th May 2019 on the fifth leg of their Final World Tour! After 37 years in the industry, the highly-influential metallers are retiring from life on the road, and their swan song will be as ear-splittingly heavy and meteoric as only Slayer show can be! They'll be joined in reverent support by Lamb of God, Amon Amarth and Cannibal Corpse!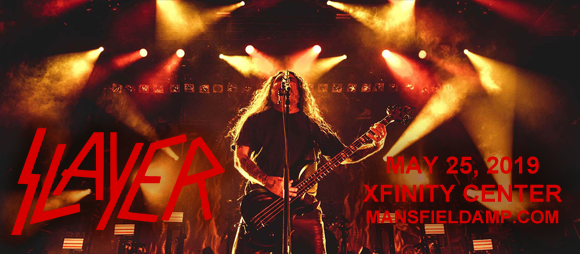 American thrash metal band Slayer was formed by guitarists Kerry King and Jeff Hanneman in 1981 in Huntington Park, California. The band found fame due to its provocative lyrics and album artwork, and its fast and aggressive take on heavy metal lead to it becoming one of the most influential metal bands of all time and earned it a place alongside Metallica, Megadeth and Anthrax, as one of the "big four" founding bands of thrash metal. The group's self-funded debut release Show No Mercy (1983) and its 1985 follow-up Hell Awaits led to a record deal with Rick Rubin's newly-founded Def Jam Records, and in 1986 the band released its seminal album, Reign In Blood. Due to its subject matter and artwork, Reign In Blood was widely banned and received little airplay, but became the band's first to enter the Billboard 200 and was certified gold by the RIAA. The band has had four gold-certified albums throughout its career, and has been nominated for five Grammy Awards.