Xfinity Center | Mansfield, Massachusetts
Calling the attention of all country music fans, the queen of country music is back on the concert scene! The one and only Shania Twain is back for another show-stopping performance that will make you scream in excitement! Yes, the queen is back on the concert stage, and she will be blowing the Xfinity Center's roof off this July 9 as she brings her "Queen of Me" tour to The Bay State. Joined by the New Jersey native RNB and country-rap artist Breland, Shania will show her Massachusetts fans how a country music concert is done. So get your concert tickets as early as today and jam to Twain's massive hits, including "Any Man of Mine," "You're Still the One," "Man! I Feel Like A Woman," "Come On Over," and many others! Witness the country superstar perform her latest songs from her newest album. Mark your calendars, and be sure to secure your tickets here by hitting the "Get Tickets" link.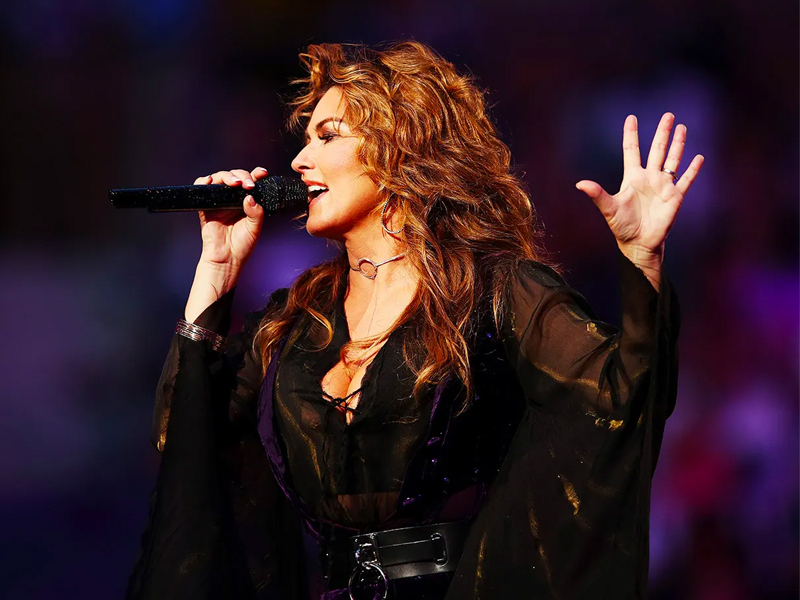 Deemed one of country music's rare gems, Shania Twain helped shape the country music scene of the 1990s. Her songs, artistry, and influence paved the way for many female country artists to take up space in the male-dominated genre. Twain pioneered the incorporation of country music into mainstream radio. Due to her powerful contralto voice and innovative fusion of country, rock, and pop, she was unstoppable. Thus, she is now regarded as one of the most successful musicians of all time.
Shania began performing at a young age to help support her younger siblings financially. This allowed the artist to be noticed by record labels, especially Mercury Nashville, which signed her and became instrumental in the release of her first album. Released in 1993, her self-titled debut album was enjoyed by millions of people in the United States and Canada. Later the same year, she met her future husband, Robert John "Mutt" Lange, who worked with her on the creation of her second album. "The Woman in Me," the singer's sophomore effort, was released that same year (1995). As a result of this sudden success, she was able to pave the way to fame in the years to come. Her third studio album, "Come On Over," was released in 1997. A lot of people all across the world enjoyed the album, unsurprisingly catapulting her to the top of the charts. After waiting five years, "Up!" was released and made it to the top of the charts. After this, she stopped releasing albums. The release of her 2017 album "Now" was met with much enthusiasm by her devoted fans.
Twain has been inducted into the Canadian Music Hall of Fame and the Nashville Songwriters Hall of Fame, and she has earned a total of 27 BMI Songwriter Awards in addition to her three Grammys.
Shania's "Queen of Me" album is scheduled for release in February 2023 after another six-year hiatus. In addition to this highly-anticipated album, a worldwide tour is slated. The trek will kick off in spring next year and continue until summer. Twain will be stopping at Massachusettes' Xfinity Center on July 9 with the American singer-rapper Breland. Breland is known for his debut single, "My Truck," and other hits, such as "High Horse," "Throw It Back," "Beers on Me," and many others. Secure your tickets now and witness Shania and Breland bring the house down. Click the "Get Tickets" link to secure your tickets today.