Xfinity Center | Mansfield, Massachusetts
It's double trouble in the extreme as two of metal's most shocking acts, Rob Zombie and Marilyn Manson, join forces to bring you the Twins Of Evil: Second Coming Tour! Headed to Xfinity Center on Wednesday 8th August 2018, fans can enjoy a full set from these mind-blowing acts, who always turn it up to the max! Expect nothing less than crazy theatrics and outrageous antics from this co-headlining extravaganza, as these controversial icons rock you to your core!!!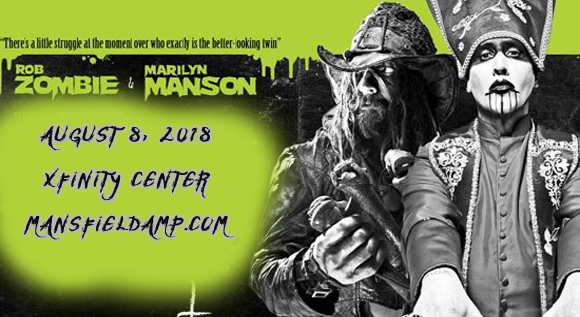 American rock band Marilyn Manson (originally known as Marilyn Manson and the Spooky Kids), formed in Fort Lauderdale, Florida, in 1989. Fronted by the band's namesake, their shocking and theatrical performances earned the band a cult following locally and in 1993 they were the first act signed to Trent Reznor's Nothing Records label. Notorious for their explicit and anti-religious sentiments in both lyrics and live shows, and amid much controversy, the band have released a number of platinum-selling albums, including Antichrist Superstar (1996) and Mechanical Animals (1998). Marilyn Manson has had eight releases debut in the top ten, including two number-one albums. Manson himself is often considered to be one of the most controversial and iconic figures in heavy metal.