Xfinity Center | Mansfield, Massachusetts
Country fans, are you hyped for Rascal Flatts?? That's right, country's favourite trio returns in 2018 with the fantastic Summer Playlist tour, featuring a rotating cast of support musicians on select dates inducing Jordan Davis, LoCash, Lee Brie and more. It's every country fan's dream come true at the Xfinity Center on Thursday 22nd August 2019 – get your tickets today!!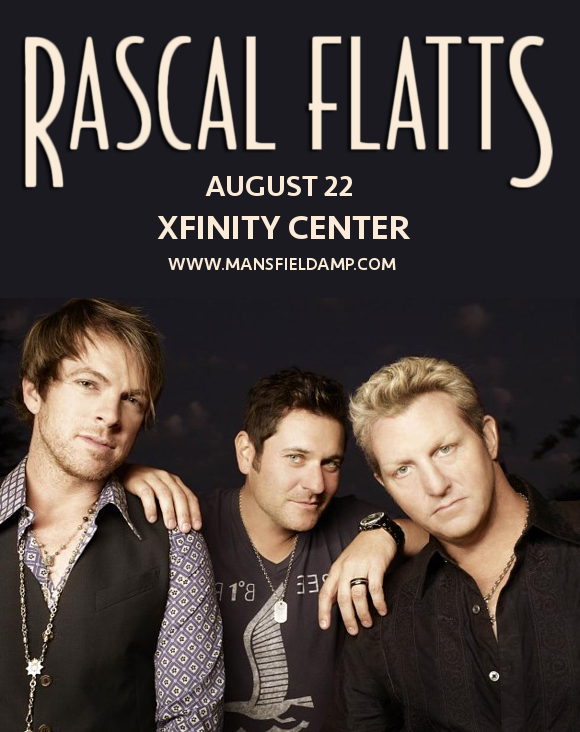 Known for their extensive use of harmonies and catchy-as-hell hooks, Rascal Flatts were formed in 1999 and took the country world by storm with their first, self-titled album, and have continued to do so ever since. Also known for their work soundtracking the Disney Cars franchise, they have become one of country's best-loved groups.
On this unique tour,Gary LeVox, Joe Don Rooney, and Jay DeMarcus will be joined by a rotating cast of opening acts including Lee Brice, Billy Currington, Jordan Davis, Jimmie Allen, Morgan Evans and LoCash! "We've been so fortunate on our journey to be able to have the best of the best new and established artists join us out on tour," enthused Gary LeVox in a press release. "It's been awesome to see those artists go on to such amazing successes. We're excited this year to be able to have an awesome lineup of special guests, and we're just ready to get back out on the road this summer. We can already feel that this tour is going to rock, come see it live!"
Well, do you need any further encouragement?? Tickets are on sale NOW – get 'em before they disappear!!