Xfinity Center | Mansfield, Massachusetts
He's feelin' good, ready to get it down at Xfinity Center on Tuesday, August 9th, 2022, bringing the Can't Stop Us Now tour to the stage, led by Mr. Worldwide himself, Pitbull. The man with global timeless hits is bringing along the 'fancy power-pop icon Iggy Azalea. With timeless hits over the past decade including "Timber" with Kesha, "Time of Our Lives" with Ne-Yo, "International Love" with Chris Brown, and "No Lo Trates" with Natti Natasha and Daddy Yankee, Pitbull teased his upcoming album "Timeless" which he says "It's about making Timeless music". So, it's about to go down, don't miss out on the hottest night of your life as Pitbull lits up the stage at Xfinity on the Can't Stop Us Now tour. Book those tickets now!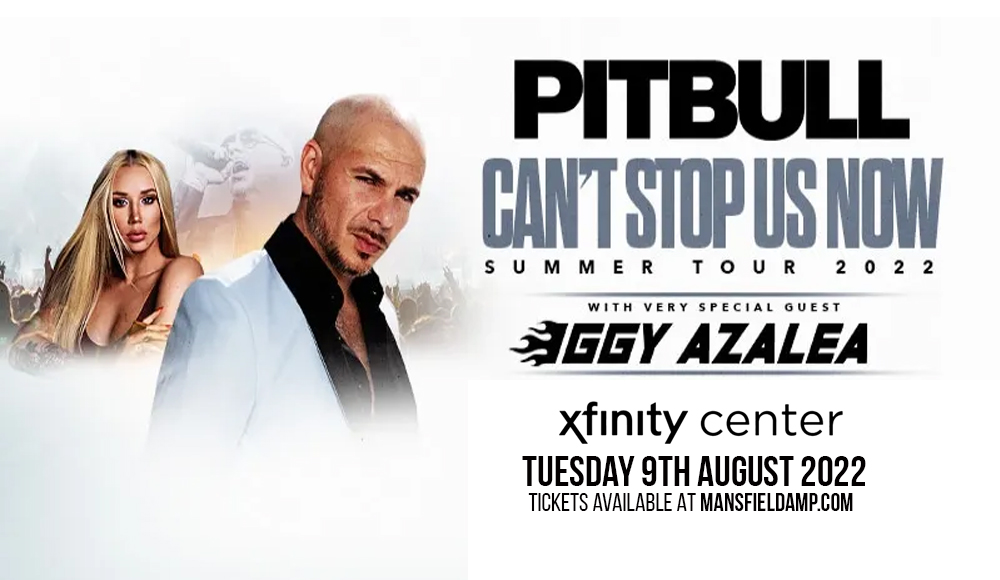 Hailing from Miami, Armando Christian Pérez took the stage name "Pitbull" saying the dogs "bite to lock. The dog is too stupid to lose. And they're outlawed in Dade County. They're basically everything that I am. It's been a constant fight". As Pitbull took a bite at the music scene, he's been set to win and take over.
With some struggles growing up, Pitbull credits Miami as a "melting pot" that exposed hm to different cultures, learning lessons for life along the way. "I always give thanks to Miami, 305, Dade County, The Bottom, Magic City, because there's no way I would be who I am and be able to deal with the world the way that I do if it wasn't for this beautiful city…" Pitbull told NPR.
In 2004, Pitbull dropped his debut studio album "M.I.A.M.I." featuring its lead single "Culo" hitting #11 on the Hot Rap Tracks chart. From his early mixtapes and debut record, Pitbull grew a loyal following that led to his big break in 2009 with the smash hit single "I Know You Want Me (Calle Ocho)" peaking at #2 on the Hot 100.
From then on, Mr. 305 became widely known as Mr. Worldwide, becoming one of the world's hottest rappers and Latin hip-hop artists. He amassed a number of hit singles over the last decade including "Give Me Everything"
featuring Ne-Yo, Afrojack and Nayer, "Don't Stop the Party" featuring TJR, "Timber" featuring Kesha, "No Lo Trates" with Natti Natasha and Daddy Yankee, and so much more.
He's collaborated with many notable artists with the likes of Usher, Chris Brown, Enrique Iglesias, Shakira, Jennifer Lopez, Flo Rida, and even more.
He ain't stopping the party as he comes back on the Can't Stop Us Now tour, ready to perform timeless hits and surprises in the works by Mr. Worldwide himself, Pitbull. Get ready to 'feel this moment as Pitbull gives everything he's got. Hurry and book those tickets now!