Xfinity Center | Mansfield, Massachusetts
Veteran jam band Phish are heading to Xfinity Center on Friday 8th July as part of their annual summer tour! These improvisational masters will bring you a night that fuses mind-bending, highly skilled, passionate music with a feast of visual wizardry to create an entirely unique and completely unforgettable show, which is guaranteed to be unlike anything you've ever seen before! Don't miss your chance to see these icons of the live music scene do what they do best!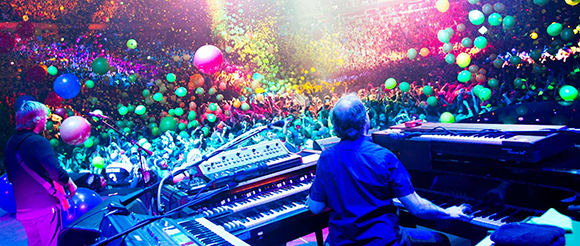 A pioneering force in the jam band movement, Phish are an American rock band who are known for their improvised music, lengthy jams, blending of musical genres, and devoted fan base. Formed at the University of Vermont in 1983, the original band line-up was Trey Anastasio and Jeff Holdsworth (both guitarists), bassist Mike Gordon and drummer Jon Fishman. Keyboard player Page McConnell joined the band a few years after, making his debut on May 3, 1985, and Jeff Holdsworth departed from the band one year later following his graduation, leaving "Trey, Page, Mike, and Fish"—the lineup to this day. The band's first widely accessible studio recording, Junta, was a double album, released in 1988 and distributed as a cassette at gigs. The band has released thirteen studio albums to date, but it is live performance where they really shine, gaining a reputation for unusual covers, protracted collaborative sessions and audience interaction, as well as an unrelenting dedication to touring. Phish performed together for nearly 20 years before going on hiatus in August 2004. They reunited in March 2009 for a series of three consecutive concerts played in the Hampton Coliseum in Hampton, Virginia, and have since resumed performing regularly.