Xfinity Center | Mansfield, Massachusetts
Metal fans, there's an amazing tour winding round to the Xfinity Center for you. That's right, it's none other than the Prince Of Darkness, Ozzy Osbourne himself, accompanied by Stone Sour, fronted by Corey Taylor of Slipknot! It's all happening on Thursday 6th September 2018 – it's going to be a wild performance! Don't miss out!! Hit that "Buy Tickets," button NOW and grab yours while you can!!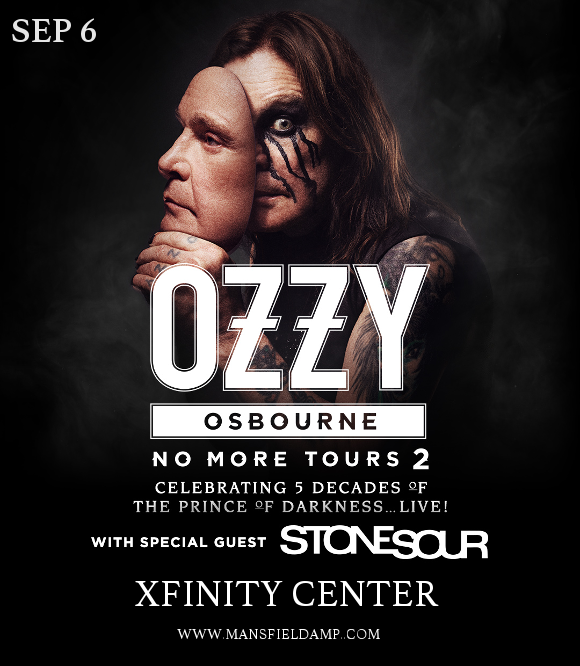 Rising to prominence as the singer of Black Sabbath – considered by many to be the worlds first globally known metal band – Ozzy Osbourne's charismatic persona and distinctive voice made their impression on rock music as we know it back in his early days. Since then, he's had an extremely successful solo career, with 11 studio albums. As once of rock music's enduring stars, he's earned the title "Godfather of Heavy Metal".
The cheekily titled tour pays homage to Ozzy's dedication to his fans – despite attempting to quit before, rock's greatest star still finds it hard to quit. He assures fans that his life on the road isn't quite over yet. "I don't wanna stop, you know," the former Black Sabbath frontman admitted. "It's been the biggest love affair of my life. When you reach a certain age in rock 'n' roll, people think, 'Well, this has got to be his last tour,' or 'This has got to be his last tour,' or 'You've got to come next Tuesday 'cause he ain't gonna do it after that.' You'll know when I've come off the road permanently. I mean, you'll know!"
What are you waiting for?? Get your tickets to catch Ozzy and Stone Sour live on the road NOW, while tickets last!!