Xfinity Center | Mansfield, Massachusetts
Two artists who are now carving out their names in the walls of rap and hip-hop fame are Meek Mill and Future. As they dropped in the announcement that they are joining forces for a double headliner tour, the title they chose for it couldn't have been more apt. The "Legendary Nights Tour" is hitting the road and is bound to make a stop at the Xfinity Center on Sunday 8th September 2019. Be there or be square, get your tickets now!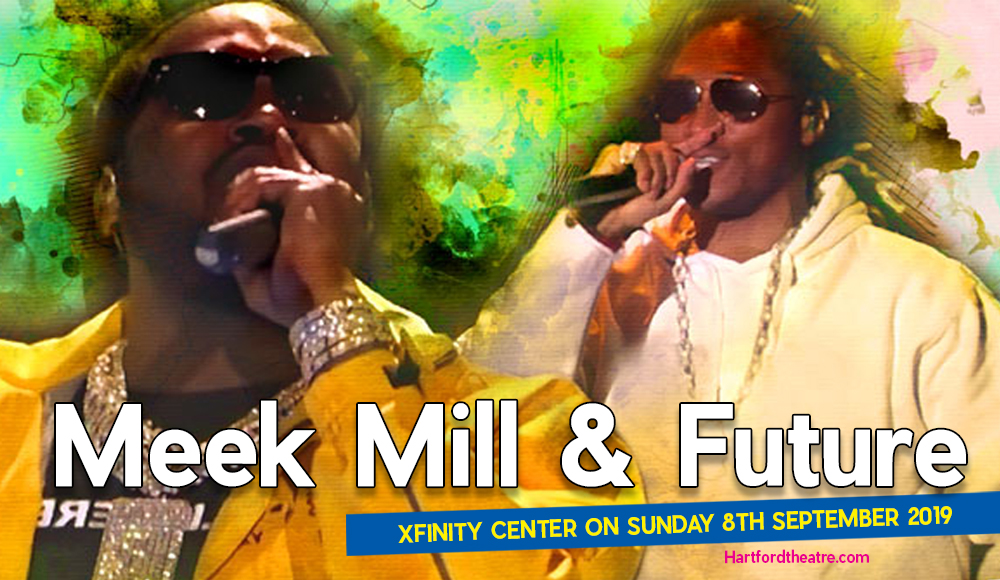 Meek Mill may have earned the ire of law enforcers, while Future has attracted controversy with his music style. But in the eyes and ears of their legions of fans, they're the stuff that legends are made of.
Meek Mill paid his dues by joining rap battles then later founded the short-lived rap group, The Bloodhoundz. Mill's debut album, "Dreams and Nightmares", was released in 2012. The album, preceded by the lead single "Amen" (featuring Drake), debuted at number two on the U.S. Billboard 200. He forged on releasing a succession of albums which include "Dreams Worth More Than Money," in 2015 his third album, Wins & Losses, in 2016. In November 2018, his fourth studio album, "Championships", was released and debuted at number one on the Billboard 200, with the lead single, "Going Bad" (featuring Drake), peaking at number 6 on the Billboard Hot 100.
Monster (2014), Beast Mode (2015), and 56 Nights (2015) were a succession of mixtape releases by Future His next releases, DS2 (2015), What a Time to Be Alive (2015, in collaboration with Drake), Evol (2016), Future (2017), Hndrxx (2017), and The Wizrd (2019) all debuted at number one on the U.S. Billboard 200. These albums spawned several singles certified gold or higher by the RIAA, including "Turn On the Lights", "Move That Dope", "Fuck Up Some Commas", "Where Ya At", "Jumpman", "Low Life" and "Mask Off". Future was either praised or bashed for his intentional use of the auto tune tool. More often than not, the press and critics were on his side. Pitchfork Media wrote that Future "miraculously shows that it's still possible for Auto-Tune to be an interesting artistic tool", stating that he "finds a multitude of ways for the software to accentuate and color emotion". GQ stated that he "has managed to reboot the tired auto-tune sound and mash it into something entirely new".
Now that's the stuff legends are made of. Don't miss them for the world!