Xfinity Center | Mansfield, Massachusetts
It's the hip hop team-up y'all have been waiting for as the Grammy Award-winning Queen of hip hop soul Mary J. Blige & New York rap pioneer Nas join forces for the first time in over twenty years! The pair, who previously collaborated on the 1997 track "Love Is All We Need", will be touching down as Xfinity Center on Sunday 1st September 2019 for a night of pure musical gold!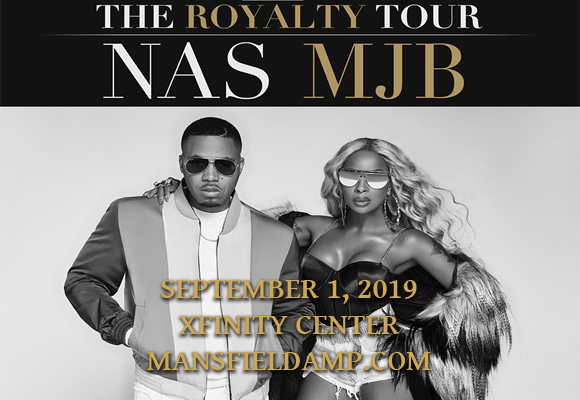 Named by Billboard as the most successful female R&B artist of the past 25 years, American singer, songwriter, model, record producer and actress Mary J. Blige 50 million albums and 25 million singles worldwide since her debut in 1992. Blige's first album, What's The 411? (1992), was lauded for its fusion of soul singing and hip hop, and has since been certified triple-platinum. She followed with My Life (1994), which furthered her popularity and is now listed among Rolling Stone's 500 Greatest Albums of All Time and Time magazine's All-Time 100 Albums. To date, Blige has released 13 studio albums (eight of them multi-platinum-selling) and has made over 150 guest appearances on other albums and soundtracks to date. She has won nine Grammy Awards, four American Music Awards and twelve Billboard Music Awards, and has also received three Golden Globe Award nominations, as well as a nomination for the Academy Awards for Best Supporting Actress and Best Original Song, making her the first person nominated for acting and songwriting in the same year. She was also honored with the Legends Award at the World Music Awards in 2006 and the Voice of Music Award from ASCAP in 2007.