Xfinity Center | Mansfield, Massachusetts
What better way to enjoy the carefree feeling of summer than to join two of country music's biggest acts for a co-headlining show? This year, multi-platinum-selling country trio Lady Antebellum are teaming up with fellow country artist, collaborator, friend and Grammy Award-winner Darius Rucker for the Summer Plays On Tour! Performing a full headlining set each, these country superstars will also be joined for the show by special guest and ACM nominee Russel Dickerson in support! Tickets available now!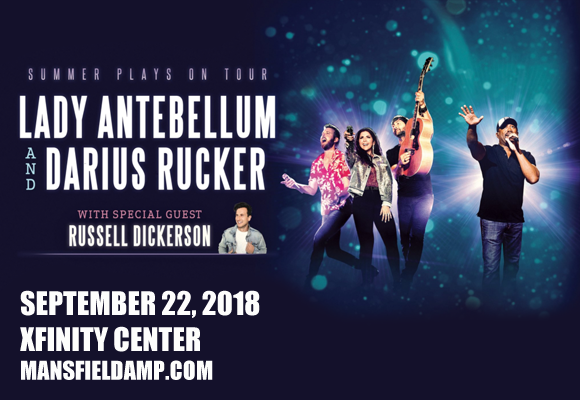 Finding fame in the late 1990s as the lead singer of Hootie and the Blowfish, whose sixteen-times platinum-selling debut album Cracked Rear View (1994) is one of the fast-selling debut albums of all time, American singer, songwriter and musician Darius Rucker originally made his name as a rock artist. Rucker showed a change in musical direction with the release of his neo soul-influenced debut album Back to Then, but it was 2008's decision to sign with Capitol Nashville that really put him on the map as a solo artist. Rucker's country debut, Learn to Live, was released that same year, launching he number one single "Don't Think I Don't Think About It", which made him the first black artist to reach number one on the Hot Country Songs charts since 1983. Rucker has released six country albums to date, and his 2013 cover of "Wagon Wheel" won him the Grammy Award for Best Country Solo Performance at the 56th Annual Grammy Awards.