Xfinity Center | Mansfield, Massachusetts
August 26 won't be an ordinary Friday for rockheads across Massachusetts as two of the most influential bands in the rock music scene play back to back in an epic headlining tour. Join metal rock giants Korn and Evanescence at the famous Xfinity Center for one massive concert. Satisfy your metal rock heart's longing for great music as you jam along with the classic hit songs of Korn and some newer materials from their 2022 album "Requiem." Sing and scream along with Evanescense's signature hits such as "Bring Me To Life," "My Immortal," and "Lithium," among many others. Invite all your concert buddies and prepare to throw some rock signs in the air, for this event will be an epic concert experience you can't afford to miss! Book your tickets now!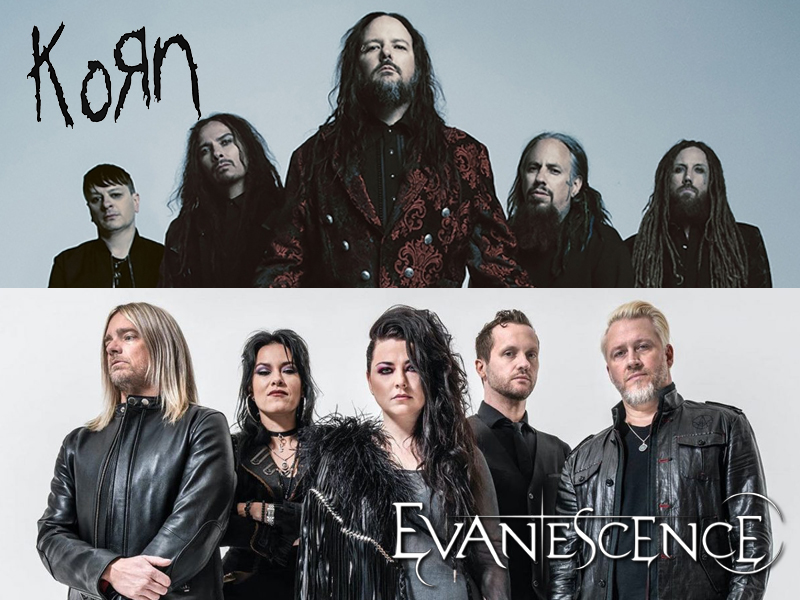 As the founding fathers of nu-metal, Korn is a band that needs no introduction. Starting out in the early 90s, the band single-handedly changed the direction of heavy music of the decade. While hiphop and pop invaded the airwaves, Korn silently crept into mainstream music — thanks to their first two monumental albums, which propelled them to commercial and critical success.
Their cathartic sound positioned the group as one of the most popular and provocative acts in the 90s that still dominates today. Love them or hate them, the band's success is undeniable. Their massive discography, numerous awards, an enormous following, and timeless influence are cemented in rock music's history.
Adding to Korn's Spring tour this year is their co-headlining tour with Evanescence. This announcement from the band made many fans excited, as the two have massive followings in the rock music scene. This summer, the tour is an 18-date series of shows in select US cities. Luckily, Xfinity Center is one of the chosen venues for this highly-anticipated collaboration. Accompanied by special guests, the tour will kick off on August 16 in Denver and will wrap up in Washington this September 16.
"We're looking forward to going on tour this summer and bringing our friends Evanescence out. We're gonna have a great time on this tour, and we can't wait to see you there," Korn lead singer Jonathan Davis expressed with excitement.
Evanescence is a household name in the rock music scene. They are most notably known for their first full-length album, "Fallen," which contained the massive hits "Bring Me to Life" and "My Immortal." The album sold more than 17 million copies worldwide and propelled the band to win two Grammy Awards out of six nominations.
"They remain one of the best live bands I've ever seen. It's an honor and a thrill to go out with our friends again, our first full tour together since '07. We're all really looking forward to this," Evanescence co-founder and lead vocalist Amy Lee said.
This back-to-back show of two of the best rock bands is simply a treat for every rock fan. So don't waste your chance to see them live at Xfinity Center this Friday, August 26, 2022. Book your tickets here