Xfinity Center | Mansfield, Massachusetts
After they kissed and made-up, one of the most exciting band reunions of the decade are definitely on roll in the live concert music circuit. The Jonas Brothers will hit the Xfinity Center stage on Sunday 16th June 2019, headlining this year's Kiss 108 Concert. KISS Concert 2019 will feature today's most top trending music stars including Jonas Brothers, Ellie Goulding, Bebe Rexha, Why Don't We, Ava Max, Ally Brooke, Bryce Vine, Fletcher, CNCO and Lil Jon. This all-killer, no-filler line-up will surely cause all the rage among rabid fans who want first dibs on tickets. Spare your life and limbs, there's a fast, easy, and safe way to score tickets. All it takes are just a few easy clicks starting with the "buy tickets" button on this site. But still, do not delay. These are hot tickets so you've got to get them fast. Book your tickets now!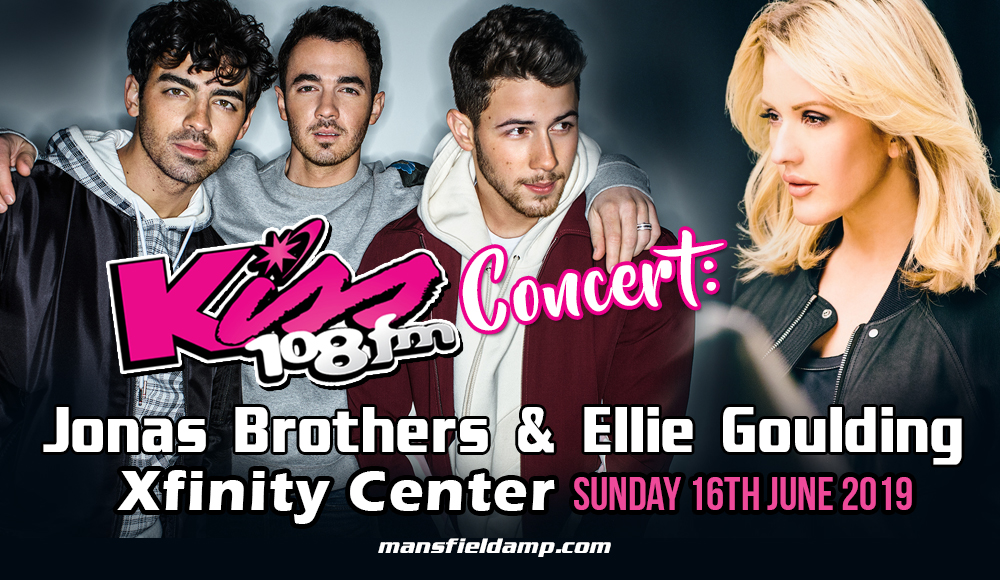 iHeartMedia's Top 40 WXKS (KISS 108) is also known for their annual KISS Concerts, where they never fail in putting together a star-studded line-up of pop, rock, hip-hop, and everything-in-between music idols of the now generation. 2019 marks their 40th year anniversary. As the cliche goes that life begins at 40, the Kiss 108 Concert this year is headlined by a band who has announced a 'starting-over' reunion.
Nothing would excite the fans more than hearing and seeing The Jonas Brothers together again as a band! Kevin, Nick, and Joe Jonas, aside from being blood brothers, were together as a band since 2005. The Jonas Brothers started with a rather shaky career status, then was eventually dropped by their label. Yet their talent shone through. Their appearances at the Disney Channel Network propelled them to superstardom. One of their biggest projects were the Disney Channel Original Movie Camp Rock and its sequel, Camp Rock 2: The Final Jam. On the music front, they have a solid array of chart-topping hits such as "Love Bug", "When You Look Me In The Eyes", "Mandy", "Live To Party", "Tonight", "Kids of The Future", "SOS", and many more! They were nominated for the Best New Artist award at the 51st Grammy Awards and won the award for Breakthrough Artist at the American Music Awards in 2008. Their record sales is pegged at 17 million albums, and counting. After a hiatus and a six-year split, the brothers are back with a bang as they released their first single "Sucker" on March 1, 2019. The song became the 34th song in history to debut at number one on the Billboard Hot 100.
The Jonas Brothers lead the pack of stellar acts at the Kiss 108 Concert this year, which include Ellie Goulding, Bebe Rexha, Why Don't We, Ava Max, Ally Brooke, Bryce Vine, Fletcher, CNCO and Lil Jon.
"Each year top-charting artists bring their biggest hits to life on Kiss 108's concert stage and this year is no different," said Dylan Sprague, Region Senior Vice President of Programming for iHeartMedia Boston." Not only will this concert highlight the Jonas Brothers return, but throw in Ellie Goulding, Bebe Rexha, Lil Jon and more and this will be Boston's' biggest show this summer!"
Don't kiss this monumental event good-bye by failing to score tickets to the show! The early fans get the most-coveted seats. Go, get those tickets now!