Xfinity Center | Mansfield, Massachusetts
Kidz Bop Live is exactly where every kid should be on the weekend! Kidz Bop will be performing at Xfinity Center, Mansfield this July 13 at 6:00 PM. Parents, what are you waiting for? Purchase your tickets now before it is sold-out!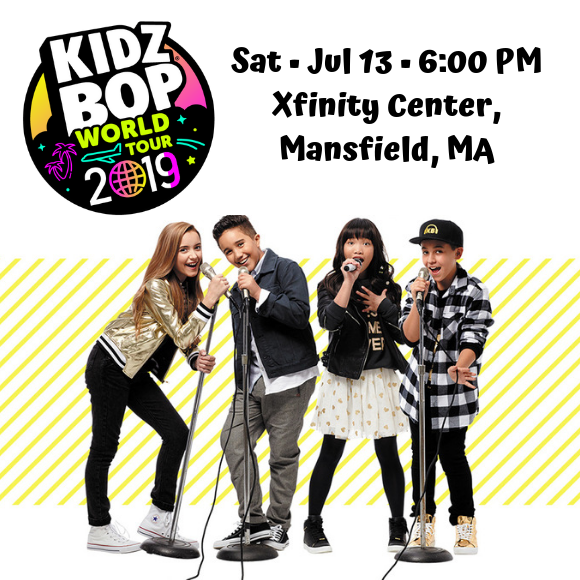 If you are wondering if you should bring your kids to watch KIDZ BOP Live? The answer is a definite YES!
This children group connects with kids and families through its best-selling albums, music videos, consumer products and live tours. They first debuted in 2001. So, parents, you will enjoy the show just as much as your children would!
KIDZ BOP Live 2019 is an interactive experience for the whole family. The KIDZ BOP Kids will be performing some of today's biggest hits "sung by kids for kids," with engaging new set design, exciting choreography, and more.
In a recent interview, Victor Zaraya, President of KIDZ BOP mentioned, "Over the past five years, we have established KIDZ BOP tours as an annual must-see live concert event for families, playing to sold-out crowds in some of America's most iconic venues from coast to coast." Yes, you read it right. KIDZ BOP tours are usually sold out. So, purchase your tickets now to not disappoint your little Kidz Bop fan.
In the U.S., KIDZ BOP is the No. 1 music brand for kids, featuring today's biggest hits often altered to be suitable for kids. KIDZ BOP has sold over 20 million albums and generated over 2.7 billion streams since the family-friendly music brand debuted. The best-selling series has had 24 Top 10 debuts on the Billboard 200 Chart.