Xfinity Center | Mansfield, Massachusetts
The queen is back! Grammy Award-winning singer, songwriter, and actress Janet Jackson just announced a 2023 'Together Again' tour, confirming that new music is coming. Set to kick off this coming April, the tour is joined by special guest Ludacris. As her first tour in four years, Janet Jackson is celebrating 50 years of music, promising to bring her acclaimed records 'The Velvet Rope' and 'Janet' along with her biggest hits. Stay tuned for big surprises by the queen herself as she gears up for the 'Together Again' tour, hitting the stage at Xfinity Center on Friday, 19th of May 2023. Book your tickets now!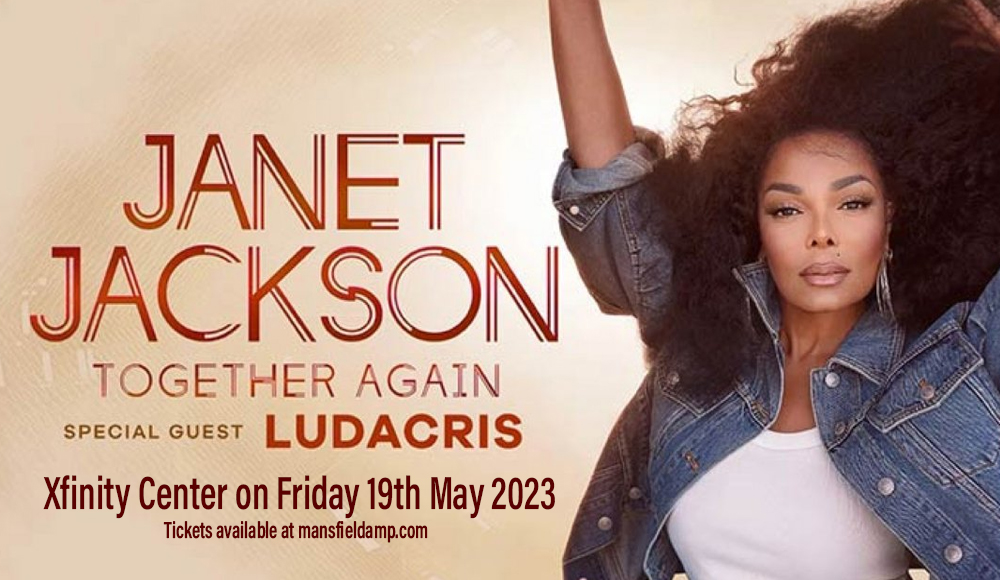 As one of the biggest R&B artists to exist, the Grammy Award-winning singer is celebrating her 50-year milestone in the industry. Announcing the 'Together Again' tour with special guest Ludacris, Janet Jackson also confirmed new music coming out real soon. As the tour focuses on her 1997 record "The Velvet Rope" and 1993's "Janet" plus her greatest hits, fans can expect big surprises in the coming months as the queen teases new material.
"I feel great, we're so excited. It's gonna be a fun time with Ludacris as a special guest…," she shared on Today. "You know, I've never done it with him before, so he's a great fit. Thought it would be a lot of fun."
Acting for The Jacksons and rising onto the global stage with her own solo career with her 1982 debut, Janet Jackson quickly became a prominent artist in the R&B and pop scene for her striking songs, innovation, and socially conscious records. Listed as the 11th best-selling female artists in the US, Jackson has 5 consecutive #1 Billboard Albums and 7 #1 albums in total. She has sold over 100 million records, making her one of the world's best-selling music artists. With a slew of multi-platinum albums selling millions of copies around the globe, Janet Jackson has dominated the airwaves with hit singles including "Together Again", "Any Time, Any Place", "That's the Way Love Goes", "Escapade", "Black Cat", "You Want This", "All for You", and so much more.
As Jackson teases new music, fans have raved over social media about the queen's return. The "Together Again" tour will mark her first tour in four years. Should she release new material, it would be her first since 2015's "Unbreakable" and her 2018 single with Daddy Yankee "Made for Now".
"A lot of the fans have been saying, 'Where's the new music? When are we gonna get new music?' So there will be new music" she shared.
Beyond the big tour announcement joined by Ludacris as the opening act on the 33-date trek, Janet Jackson has confirmed that she's back in the studio. With back-to-back big news from the queen, fans are surely in for a wild party as the queen makes her way back to the live stage.
The tour's promo video proudly presented a night of her greatest hits and new music as Jackson celebrates 50 years in the entertainment industry. "Together Again Tour" follows her last 2019 major tour where she celebrated 30 years of her 6x Platinum awarded album "Rythm Nation 1814".
Don't miss out on the one and only Janet Jackson's big return to the live stage at her "Together Again" tour this 2023. Book your tickets now!