Xfinity Center | Mansfield, Massachusetts
Brandon and the gang are back in action as alt-rock heroes Incubus embark on a huge tour to promote their first new album in 6 years! Not only will these melodic rockers be taking to the stage, but they'll be joined by fellow noughties favorites Jimmy Eat World, for a night of truly awesome music! Head down to Xfinity Center on Tuesday 18th July 2017 for one hell of a show!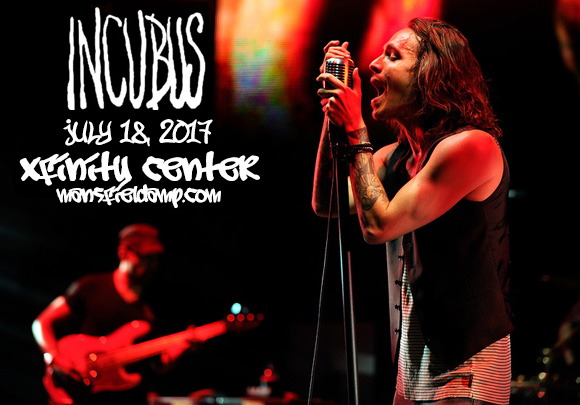 Formed in Calabasas, California in 1991, rock band Incubus has sold over 23 million albums worldwide. The band was founded by high school friends Brandon Boyd (vocals), Mike Einziger (lead guitar), and Jose Pasillas (drums). Joined by Alex "Dirk Lance" Katunich (bass), and Gavin "DJ Lyfe" Koppell (turntables) – who were later replaced by bassist Ben Kenney and DJ Kilmore respectively – they released their debut album Fungus Amongus in 1995. Since then, the band has released eight studio albums, including their platinum-selling breakthrough hit Make Yourself (1999), which featured the singles "Pardon Me", "Stellar", and "Drive", and the double-platinum-selling album Morning View (2001), which is the band's best-selling album to date, and featured several popular singles. The band's eighth studio album, 8, is slated for release in 2017.