Xfinity Center | Mansfield, Massachusetts
EVENT CANCELLED. Please contact your ticket point of purchase to claim a refund on your tickets.
Funky basslines, distorted guitars, hip hop breaks and no negativity – even after all these years, Incubus and 311 are still the perfect soundtrack to the summer! Remember the carefree days of the late '90s, skating in the park and jamming with your buddies? The world may have have moved on, but these bands are still bringing the good vibes, and they're headed to Xfinity Center on Friday 14th August 2020 as part of their first tour together in nearly 20 years! Get ready for hot new music, plus a trip down memory lane – the perfect combination! They'll be joined by Badflower in support!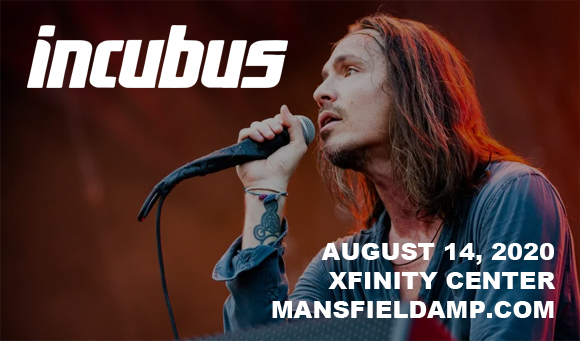 One of the biggest alternative rock bands of the early-2000s, Incubus was formed in Calabasas, California in 1991, when Brandon Boyd, Mike Einziger, and José Pasillas were at high school together, along with bassist Alex "Dirk Lance" Katunich. Initially a funk-metal band, the group began performing locally and added turntabilist DJ Lyfe to the mix, adding a hip hop flavor to their sound. Their 1995 self-released debut album, Fungus Amongus, attracted the attention of Sony's Immortal Records, later to become Epic Records, who signed the group in 1997. That year, the band released its major-label debut album, S.C.I.E.N.C.E., but it was Make Yourself, released two years later, that became their launch into the mainstream. The album had a lighter, more polished sound, and produced three hit singles: "Drive", "Pardon Me" and "Stellar," with "Drive" peaking at number nine on the Billboard Hot 100 and later becaming the band's signature song. In 2001, the band released Morning View, which embraced a softer sound and reached number two on the Billboard 200. A Crow Left of the Murder… (2004) also hit number two on the Billboard 200, and Light Grenades (2006) became the band's first number on album on the chart. Their following albums, If Not Now, When? (2011) and 8 (2017) hit number two and number four on the chart, respectively. Trust Fall (Side B) – a new EP and follow-up from 2015's Trust Fall (Side A) – is released this year.