Xfinity Center | Mansfield, Massachusetts
It's an all-out hits-fest as radio staples and pop rock royalty Hall and Oates & Train come to Xfinity Center on Thursday 7th June 2018 for a co-headlining monster of a show! Performing all their classic hits and fan favorites, the two bands are clearly looking forward to a stint together:
"It's gonna be fantastic. I know Train and Pat, and I know his music and how well it's gonna fit with us. I'm excited to sing on stage with him, and we're gonna have a good time," said Daryl Hall.
"I have a lot of friends, even fans who have my email address and stuff — they're already buying suites and having 100-people parties that night. I'm tempted to just skip the show that night and go get all wined up and watch Hall & Oates with my friends. I'm looking forward to all of it," said Train's Pat Monahan.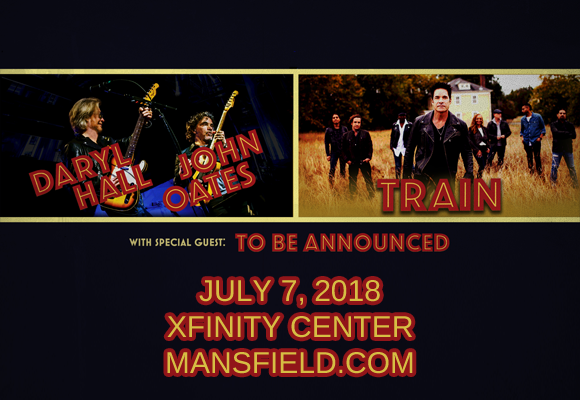 The third best-selling duo of all time, pop rock two-piece Daryl Hall and John Oates have sold roughly forty million records since they formed in the 1970s, finding fame with their self-titled debut album and its follow-up Bigger Than Both of Us (both released in 1976). Bigger Than Both of Us launched "Rich Girl", the first of many number one singles for the pair, including "Kiss on My List", "Private Eyes", "I Can't Go for That (No Can Do)", "Maneater", and "Out of Touch". Hall and Oates have charted thirty four chart hits on the US Billboard Hot 100 in total, and have released seven RIAA platinum albums and six RIAA gold albums throughout their career.