Xfinity Center | Mansfield, Massachusetts
It's all going down at the XFINITY CENTER on July 26th, 2023, where hard rockers, GODSMACK and STAIND making a stopover during their co-headlining tour. It's all part of a 25-city trek across North America. You can expect nothing but electrical performance as these two legendary rock icons take you on a journey with their awesome stage presence, extremely powerful vocals, guitar shredding prowess, heart pumping drumming, and some of the most exhilarating bass lines on the planet. You are going to have the time of your life as you jam out with the rest of the ROCK-HEADS but you need to secure your tickets before they sell out. Luckily, this website makes it really fast and secure to do; just scroll up, find the "GET TICKETS" button, click that, and follow the simple instructions. So there you have it, the best musicians on the planet, the best venue, and of course the best concert ever! So don't delay, grab them now!!!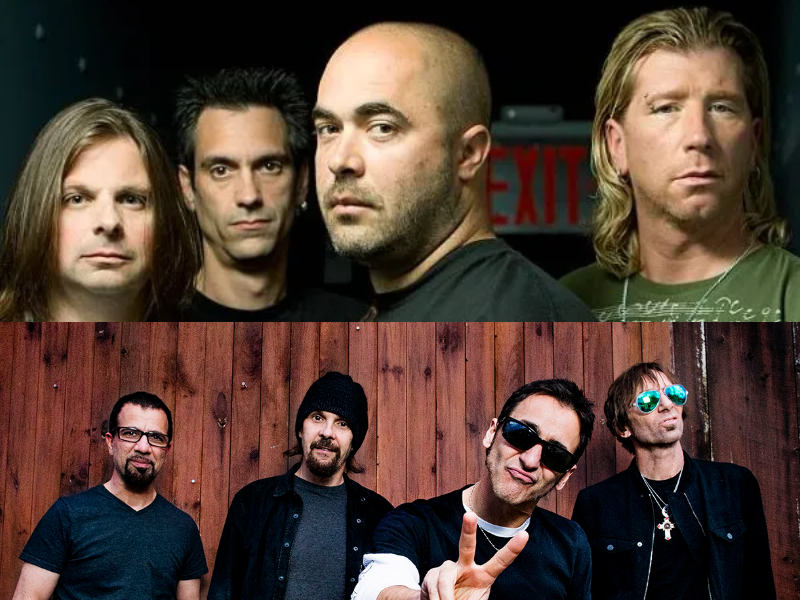 There is only one name that can be trusted to deliver quality HARD ROCK, and that name is GODSMACK. After forming in 1995, the band has gone on to achieve phenomenal success, selling OVER 20 million albums worldwide and earning Grammy nominations and Rock Artist of the Year from Billboard in 2001. With their albums FACELESS, IV, and THE ORACLE all debuting consecutively at number one on the Billboard 200 album chart upon each release, you can rest assured these guys really understand their fans and the genre well.
On stage, they are even better. With powerful vocals, heart-pounding drums, and heavy guitar riffs, fans go wild rocking out to their Nu-Metal, Hard Rock, Heavy Metal sounds. Everyone loves their classic anthems too, such as VODOO and I STAND ALONE but they've also got a brand new album out, released in February of this year, so you can expect to hear new music as well.
Co-headlining with them will be STAIND who are also known for being one of the biggest rock bands of the early 2000s, alongside GODSMACK. Those are not just the only similarities, either; just like their tour partners, they formed in 1995 and have sold roughly the same amount of albums at over 15 million.
DYSFUNCTION, their first album, topped the HEATSEEKERS charts. The album's singles "JUST GO," "MUDSHOVEL," and "HOME" became radio staples, and the record peaked at number 74 on the BILLBOARD 200 ALBUM chart. With seven studio albums under their belts and eight top ten singles, they've got hits for days, including IT'S BEEN A WHILE and OUTSIDE.
Fans of rock music have never had it so good with a concert of this caliber, but just know that tickets will sell out very quickly. YOU must act quickly to secure your spot, so find that "GET TICKETS" button up top and click it right NOW!!!
GODSMACK is Sully Erna (vocals, guitar), Robbie Merrill (bass), Tony Rombola (guitar), and Shannon Larkin (drums).
STAIND are Aaron Lewis (vocals and guitar), Mike Mushok (guitar), Johnny April (bass and backing vocals), and Sal Giancarelli (drums).