Xfinity Center | Mansfield, Massachusetts
Theatrical goth-rockers Evanescence and genre-bending electric violinist Lindsey Stirling will be teaming up this summer for a co-headlining tour like no other! Coming to Xfinity Center on Wednesday 18th July, 2018 for a night of spellbinding music, the "Hi-Lo" collaborators will both perform a headlining set accompanied by a full orchestra! Prepare to be blown away!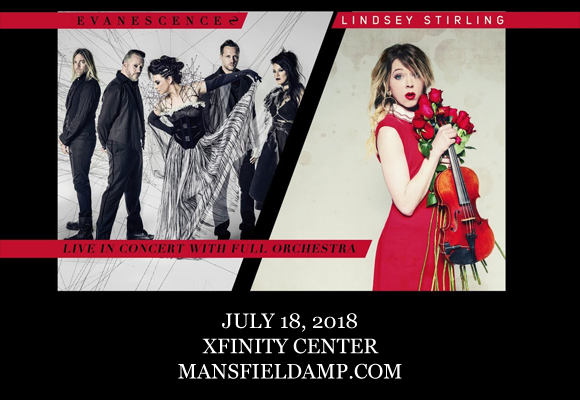 Formed in Little Rock, Arkansas in 1995 by singer/pianist Amy Lee and guitarist Ben Moody, American rock band Evanescence burst onto the scene in 2003 with their debut album Fallen, which earned them two Grammy Awards out of seven nominations and scored number six in CBS's "Top Bestselling Albums of the Last 10 Years" (2008). After several line-up changes, the band released their third, self-titled, studio album in 2011, which debuted at the top of five Billboard charts: the Billboard 200, Rock Albums, Digital Albums, Alternative Albums, and the Hard Rock Albums charts. After a three-year hiatus, the band reformed in 2015. Their most recnt album, Synthesis, was released in 2017.