Xfinity Center - MA | Mansfield, Massachusetts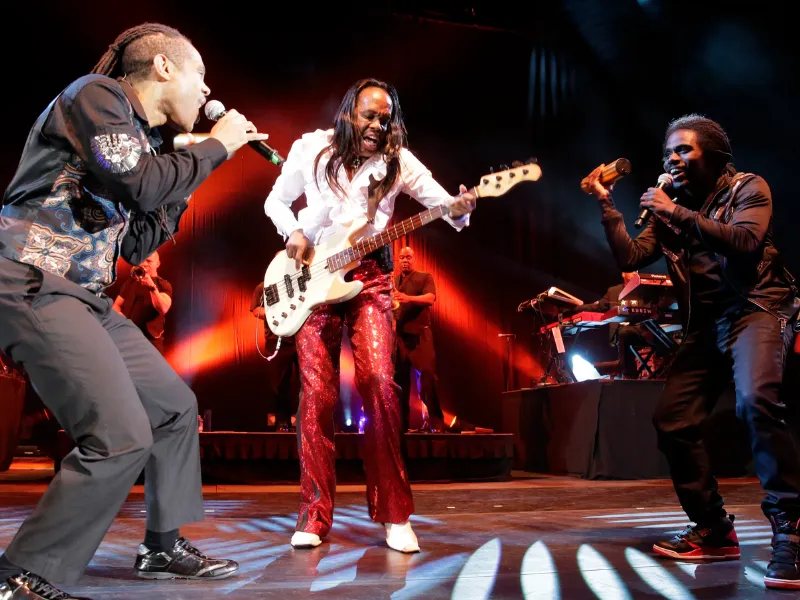 Two headliners, twice the impact! Earth, Wind and Fire & Chicago are hitting the Xfinity Center stage on Saturday, July 27th, as part of their thirty-date Heart & Soul Summer Tour. The fourth time's definitely the charm, as these Rock and Roll Hall of Fame titans are reuniting once again to surpass their collaborations from previous years. With over 200 million albums sold, eleven Grammy wins, and almost thirty nominations combined, this upcoming trek guarantees entertainment beyond your dreams from two of America's most iconic musical groups of all time. Fans can expect to hear nothing but the hits between these two, including "Boogie Wonderland," "September," "Hard to Say I'm Sorry," "25 or 6 to 4," and more! With its revitalizing outdoor ambiance and top-of-the-range audio-visual gear, no other stage shines brighter than the Xfinity Center in Massachusetts. So, catch these legends at the exquisite venue and purchase your tickets as early as today!
Earth Wind and Fire & Chicago are on their way to perform at the Xfinity Center on Saturday, July 27th! Coming together for the fourth time in history, this much-awaited encore show will be part of their thirty-date summer trek entitled the Heart & Soul 2024 Tour. Kicking off in Missouri in early June, the tour will stop by major cities, including Toronto, Houston, Los Angeles, and more, before concluding late in September.
According to Live Nation, this tour will unite Chicago's hit tracks with Earth, Wind and Fire's extensive catalog for "one unforgettable night of music filled with epic sets from each artist that will culminate in an encore performance with both bands on stage together."
As one of the most influential and commercially successful forces in the 20th century, Earth, Wind & Fire has released a total of 23 albums. Moreover, their track record features eight number-one R&B singles along with eight Double Platinum Top 10 Albums. With over 50 Gold and Platinum albums sold, the group has certainly earned its spot as one of the best-selling music artists of all time.
"Now, after making music for 45 years, they're down to three remaining original members. Ralph Johnson has departed the drum kit for a less physically demanding percussion role. However, at 65, singer Philip Bailey's extraordinary falsetto still visits places usually made possible only by painfully tight trousers. Verdine White also remains rooted to the spot," The Guardian shares.
Meanwhile, Chicago is internationally known as the very first American band to chart albums in Billboard's Top 40 in over six consecutive decades. In addition, they continue to rank as the highest-charting American band in Billboard's Hot 100 All-Time Top Artists. Their lifetime achievements consist of two American Music Awards, two Grammy Awards on top of a Grammy Lifetime Achievement Award, and a prestigious induction of original members into the Rock and Roll Hall of Fame.
Drive down to Mansfield, Massachusetts, and experience this reunion first-hand at the most refreshing outdoor amphitheater in the nation. At the Xfinity Center, viewers will be greeted with top-of-the-line staging technology and a spacious floor, providing an ideal space for the upcoming live performance! Grab your tickets to Earth, Wind and Fire & Chicago live on Saturday, 27th July!