Xfinity Center | Mansfield, Massachusetts
It's an EPIC line up for any metal fan as the groundbreaking Disturbed, Breaking Benjamin, Alter Bridge & Saint Asonia are all coming to ROCK Xfinity Center on Saturday 23rd July 2016! Disturbed have had an awesome last few years with their huge return to the stage and general music scene in June 2015, with the release of their first album in five years, Immortalized! The record smashed the sales with 98,000 copies in its first week, is Disturbed's fifth consecutive number-one debut on the United States Billboard 200 chart. They are the third only band in history to achieve this triumph, the other two include Metallica and Dave Matthews Band!
Get ready as they hit the stage to blow your mind once again!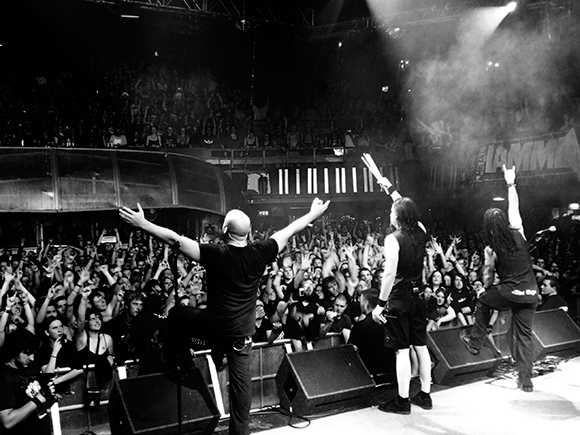 Disturbed are globally recognized for their intense and creative heavy metal that hails from Chicago, Illinois. Most widely known for their hard hitting popular third studio album, Ten Thousand Fists, released in 2005. The record smashed the charts at a number-one spot on the Billboard 200, and sold a whoppinh 238,000 copies in the week following its release! A rare and groundbreaking response that has kept the band touring for years to come. The band toured with 10 Years and Ill Niño in support of the album. Disturbed headlined Ozzfest 2006 along with System of a Down, Lacuna Coil, DragonForce, Avenged Sevenfold, and Hatebreed.
The band comprises vocalist David Draiman, bassist John Moyer, guitarist Dan Donegan, and drummer Mike Wengren. Former band members are vocalist Erich Awalt and bassist Steve Kmak.
The group have carved themselves a natural sound like never heard before… "We probably have too much melody going on or we're not quite as turbulent or caustic. While I really love that type of music, it's not what we try to do. If we have to place things in context, we're more hard rock than heavy metal these days."
"The secret is that we were never really part of any particular trend, although we definitely benefited from the popularity of what was called nu-metal at the time … We never had the stereotypical attributes that those bands had. We don't rap; there's no turntable involved; no fusion in that respect. We play, in my opinion, classic metal. Sabbath, Maiden, Priest, Metallica, Pantera: these are the bands that made us want to play."