Xfinity Center - MA | Mansfield, Massachusetts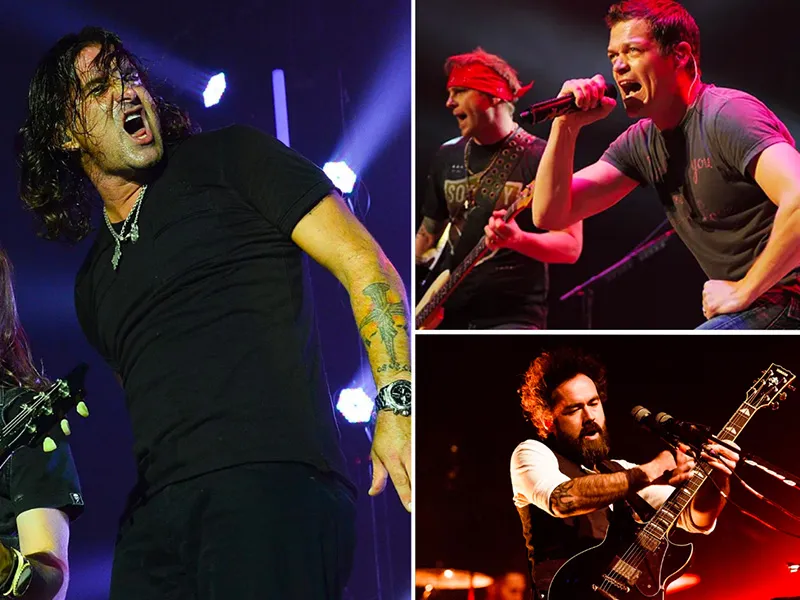 A concert you'll definitely attend With Arms Wide Open will take place this summer as the Grammy award-winning rock band Creed reunites for their "Summer of '99 Tour." Yes, your eyes are not deceiving you. You are reading that right. The iconic band who brought you the hits "Higher," "With Arms Wide Open," "My Sacrifice," and "One Last Breath," among many others, has heard your plea for a reunion tour. Along with 3 Doors Down and Finger Eleven, Creed will go on a North American trek to bring nothing but epic performances all around the US and Canada. The Scott Stapp-led band will be bringing the nostalgia and fun of their iconic hits to Mansfield, Massachusetts's Xfinity Center on August 21. No other concert will take you Higher this summer! Join thousands of fans and celebrate the music and legacy of Creed. Mark your calendars and reserve your tickets as early as today. Click the "Get Tickets" link to get started.
Creed is a four-piece American rock band from Tallahassee, Florida, who was prominent in the post-grunge movement of the late 1990s and early 2000s. The band is composed of lead vocalist Scott Stapp, guitarist and vocalist Mark Tremonti, bassist Brian Marshall, and drummer Scott Philips. They were formed in 1994 with originally five members. Stapp and Tremonti had been friends and classmates in high school at Florida State University. Realizing that they both love writing music and performing, the two founding members had multiple discussions and spent time composing songs. The duo then held auditions that led to Marshall, Philips, and rhythm guitarist Brian Brasher's recruitment and thus became the completion of the quintet. However, Brasher left the band one year later. Creed released their debut album, "My Own Prison," which eventually became chart-topping. The album was initially self-released on their own label, Blue Collar Records, selling 6,000 copies throughout the state of Florida. With only four members, Creed was graced with local success and started playing shows in bars and small venues in Tallahassee. According to Scott Stapp, the band first performed at Yianni's in Tallahassee as "Naked Toddler," which was picked up by Tremonti from a headline in that day's newspaper, but the reaction that night to the name was negative. As the group's trying to find inspiration for a better name, Marshall then told them that he had been in a band called Mattox Creed. Stapp latched onto the Creed part, and everyone agreed.
Their album "Human Clay" (1999) became one of the best-selling albums of all time and was certified diamond. While their "Arms Wide Open" won a Grammy Award for Best Rock Song in 2001. Creed has released three consecutive multi-platinum albums, sold over 28 million records in the United States, over 53 million albums worldwide, and was the ninth best-selling musical act of the 2000s.
Creed had been rejected by Atlantic and Cherry Universal Records before Wind-Up flew down to sign them. The band has been with Wind-Up label since then. In 2004, Creed disbanded. Scott Stapp pursued a solo career while Mark Tremonti, Brian Marshall, and Scott Philips founded the band Alter Bridge with Myles Kennedy. They reunited in 2009 and released their fourth album "Full Circle." They performed several tours before separating again in 2012. The band then underwent a hiatus for 11 years, and just last July 2023, they officially reunited and announced that they would be headlining the Summer of '99 cruise festival in April 2024.
On October 30, 2023, Creed announced The Summer of '99 Tour, with more than 40 shows across the US with special guests including 3 Doors Down and Finger Eleven.
3 Doors Down, as direct support on most of the tour, is a quintet American rock band from Escatawpa, Mississippi. They rose to international fame with their debut single, "Kryptonite," on January 2000, which placed in the top three on the Billboard Hot 100 chart, and their debut album, "The Better Life," which was the 11th best-selling album of that year and was certified 7x platinum in the United States. The band is currently composed of members Brad Arnold, Chris Henderson, Greg Upchurch, Chet Roberts, and Justin Beltonin. Moreover, Finger Eleven, a five-piece Canadian rock band from Burlington, Ontario, will be opening for Creed at every show during the reunion run. Finger Eleven, having Scott Anderson, James Black, Rick Jacket, Sean Anderson, and Steve Molella as current members, released several albums that were surely hits as well. Their fifth album, "Them vs. You vs. Me," won the Juno Award for Rock Album of the Year in 2008 and was later certified gold in the US and multi-platinum in Canada.
Daughtry, Switchfoot, Tonic, and Big Wreck will be joining the band on select dates as well. The Summer of '99 Tour will kick off starting July 17, 2024, until September 28.
This coming August 21, 2024, Creed will be on their 21st stop at The Xfinity Center, Mansfield, Massachusetts. Catch them live with 3 Doors Down and Finger Eleven on a Wednesday night, which will definitely feel like it's already Friday. Get your tickets now, and we'll see you there!