Xfinity Center | Mansfield, Massachusetts
Celebrating 25 years of multi-platinum-selling albums and chart-topping hits like "Mr Jones" and "Long December", 90s alt-rock heroes Counting Crows are headed to Xfinity Center on Friday 17th August, 2018 as part of their mammoth 25th anniversary tour! The upbeat hit-makers will be joined on the stint by fellow 90s multi-platinum band +LIVE+! Take a trip down memory lane at what promises to be one of the best live shows this summer!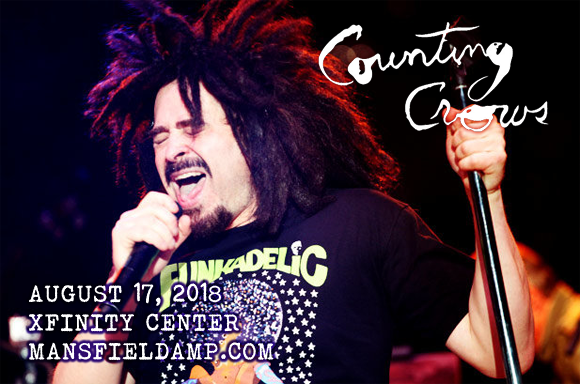 Originally a duo, comprising of Adam Duritz (lead vocals, piano) and David Bryson (guitar), Counting Crows is an American alternative rock band. The duo was formed in 1991 in Berkeley, California, when Durlitz and Bryson began playing the bars and clubs of Berkeley and San Fransisco together in the early '90s. Three years later, the duo had become a band and they were signed to Geffen Records, releasing their debut album, August and Everything After, in September 1993. On the strength of its hit single "Mr Jones", the record became the fastest-selling album since Nirvana's Nevermind. To date, the band has sold over 20 million albums worldwide. Their seventh studio album and most recent release was 2014's Somewhere Under Wonderland.