Xfinity Center | Mansfield, Massachusetts
The Wedding Singer. Zohan. Big Daddy. Happy Gilmore. Billy Madison. The Waterboy. Do you want to see all those wacky personas in one stage? The main man responsible for all these famous movie characters is none other than the suave, the sexy, and the strikingly funny superstar Adam Sandler. It'll surely be a riot as Sandler is all set to crisscross the country for 30 dates in selected cities and states. And yes, did we mention that it's going to be on a live stage?! Thank you lucky stars; Adam Sandler is taking center stage at the Xfinity Center on Wednesday 19th June 2019. Shout out to your friends, families, partners, exes, or whomever it is you're willing to share this riotous moment. But first things first –book your tickets! Click on the 'buy tickets' section now to save your spot. Don't miss this wildly exciting show!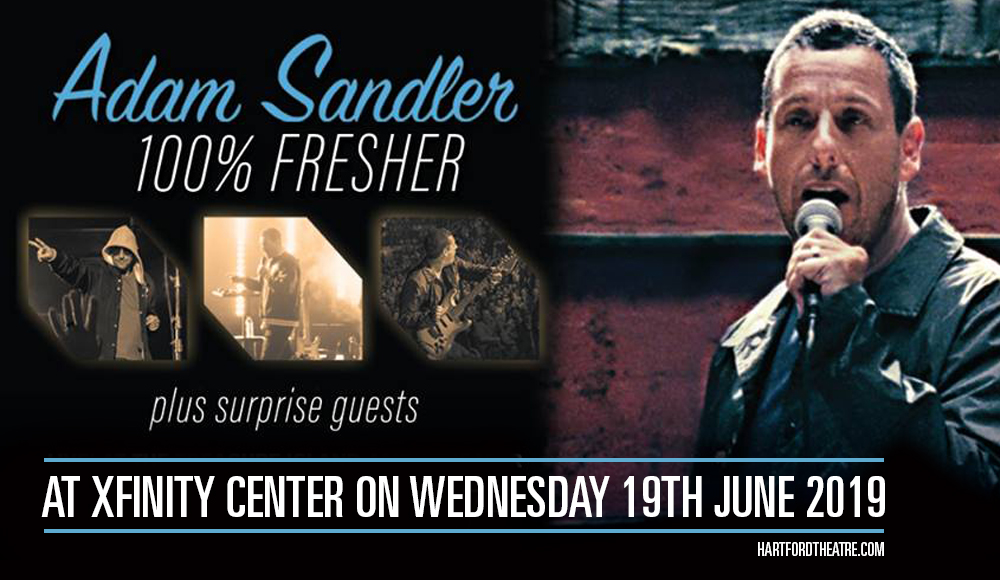 We all know and have always been in awe of the star that is Adam Sandler. He's got that uncanny charm and sex appeal that combines with his natural wit and amusing sense of humor. No wonder, his movies are blockbuster hits! But what we see on the silver screen are the fruits of all the times when he paid his dues and clocked in years and years of perfecting his comedic craft. The Stand-Up comedy stage. That's where only the best man remains standing before he is ready to move and climb up that proverbial Hollywood sign up on the hills.
Considering he had not done any filmed show of an hour of stand-up in over 20 years, it was refreshing to see him on Netflix when released 100% Fresh. Yet, Sandler is going to outdo himself and take it a notch higher. "100% Fresher" is his first time in what seems like forever, for him to step-up and stand-up on that live comedy stage..up until now.
Well, this show is definitely long overdue. Don't expect those Adam Sandler devotees to take this sitting down. Go and stand-up and make a fast click to that 'buy tickets' button now!